Wetland inundation dynamics
Monitoring surface inundation in wetlands is important for understanding the ecosystem services they offer, including the regulation of regional hydrology, water quality and greenhouse gas cycling. Existing methods for detecting wetland inundation using satellite imagery are often inadequate due to the complexity of wetlands in both space and time. Surface water in wetlands is often mixed with vegetation or soils, giving rise to mixed pixels and significant omissions in inundation map products. Additionally, inundation is highly dynamic in most wetland systems and require regular satellite observations to capture their rapid changes. Figure 1 shows the importance of accounting for mixed water pixels when mapping wetland inundation using Landsat imagery. Including only open water (ie. no mixed vegetation or soil) in our inundation map results in a large underestimate in inundated area.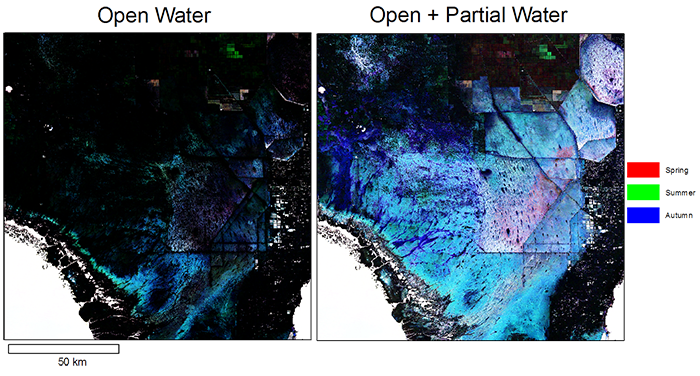 Funded by NASA's Land Cover and Land Use Change (LCLUC) programme, my research involves the monitoring of surface water inundation at the sub-pixel level using Landsat and Sentinel-2 data, combined with Sentinel-1 SAR, towards establishing a near-daily record of inundation over much of North America. Read more about this project here.
Collaborators: